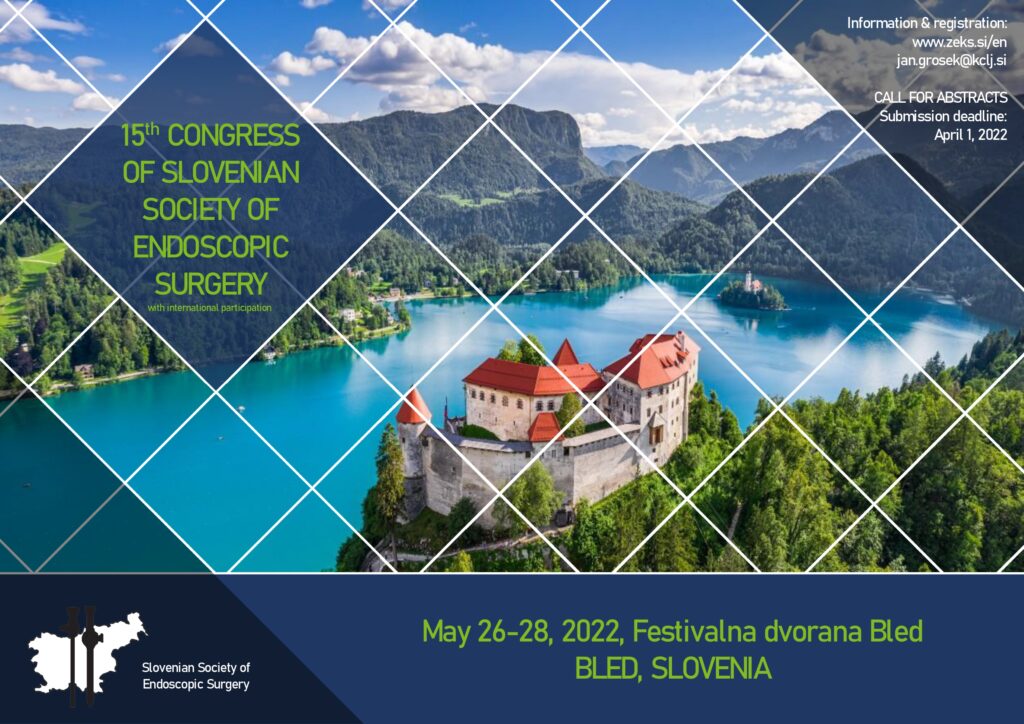 We are pleased to invite you to the 15th Congress of Slovenian Society for Endoscopic Surgery, which will be held at Festivalna dvorana Bled from 26th to 28th of May 2022. Preliminary scientific programme will be available soon.
Registration fees (all prices include VAT):
A) Congress
-Specialists
SSES members         150 eur
Non-members          200 eur
-Residents, interns, students
SSES members                    50 eur
Non-members                     100 eur
-Retired physicians 
Free of charge
B) Laparoscopic surgery workshops (Saturday, 28th of May 2022)
(registration possible only for those registered to the core congress)
SSES members      100 eur
Non-members        150 eur
Registration is possible until the date of the congress and on-site.
Registration fee includes admission to scientific sessions,  welcome reception, coffee breaks, and certificate of attendance. The number of available spaces at laparoscopic surgery workshops is limited to 20 participants.

You are invited to participate as a presenter. Abstract submission deadline is on the 1st of April 2022. Please send your abstracts to jan.grosek@kclj.si.
If you have already registered for the congress but have not yet booked a hotel, you can do so now via our hotel booking platform. In case you have difficulties with on-line booking, you can contact hotel booking department for assistance: e-mail: info@hotelibled.com, telephone: +386 4 579 16 00. When contacting the booking department please note the event reference code: 31755.

See you in sunny Bled!